Susie here! There is something hugely liberating about wearing dungarees. Any item of clothing that makes you feel happy, fun and childlike, is fine by me! When you become an adult and have responsibilities, endless unanswered emails, bills, school runs and little snotty noses to wipe, it's easy to feel like life has become waaaaaay too serious.
When life feels too serious, it becomes even more depressing when you spend your life confined to boring clothes!
Any form of "all in one" can be scary when you first try it. I have many clients that have shuddered in fear when I have presented a jumpsuit in a changing room, but ended up loving it, and then buying several others, months later. Wearing it for the first time can be scary but you soon get used to it.
Boilersuits are going to be huge this season, and I can personally vouch for how comfortable they are. Due to their loose fitting nature, it's always best to size down (yes, even in Topshop!).
Both boilersuits, current stock from ASOS.com
Who do they suit?
While jumpsuits suit all body shapes, dungarees are slightly more restrictive. Due to the clasp detail and position of the upper part of the dungarees, they are less forgiving for women with fuller busts (say, an F cup, upwards).
If you have a fuller bust, you could always try wearing your dungarees undone for a more relaxed, casual look. I have been known to wear mine like this, by the time it's 6pm and I am cooking dinner!
Image from Pinterest.
Boilersuits are a great alternative to dungarees, if you have a fuller bust, yet they also work on smaller busted ladies. They usually have a zipped upper body, which works well for all shapes, even if you're breastfeeding and need easy access.
Boilersuit, current stock from Boohoo, at ASOS.com
I'm plus size – why can't I find any boiler suits?
Boilersuits don't tend to come in many plus size ranges, so if you're above a size 20, it's worth going down the jumpsuit route instead (of which there are many!). Go for big, bold patterns and style them in the same way that we have recommended below.
I'm tall. Can I wear boilersuits?
Hell yes, girlfriend. This style was positively MADE for you! Go forth and boilersuit yourself up.
I'm petite. Can I wear boilersuits?
Many petite ranges stock boilersuits, but I recommend sizing down to ensure they don't drown your frame too much.
Boilersuit, current stock from ASOS.com
How do I style them?
Dungarees and boilersuits look great as casual daywear. All they need are a pair of trainers in springtime or flip flops in summertime! Roll up the cuffs and hems of your boilersuit, to feminise the look.
Boilersuit, current stock from Topshop
If you're unsure how to style dungarees, you can't go too wrong. You can keep the look really plain and simple, with a white tee underneath, or a Breton stripe. When it's warmer, go for a vest top, and when it's cooler you can even pop a jumper underneath.
Image from Pinterest
Just a word of caution – never wear yellow underneath a pair of dungarees as you'll look like a Minion!
What style of dungarees are best?
Dungarees come in a variety of styles. The style that suits most body shapes, would be a pair of dungarees with a skinny jean style leg. A relaxed, boyfriend style dungaree, is great if you're really tall or you have slender hips.
Dungarees are also great to wear when you are pregnant and want to feel stylish, not frumpy!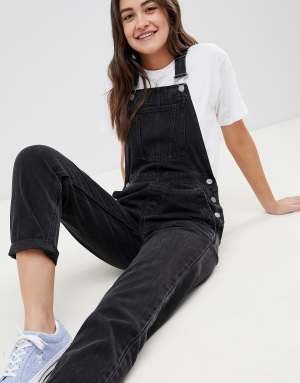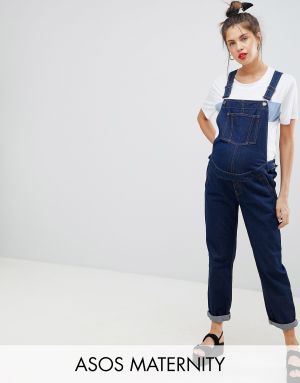 Both current stock from ASOS.com
How should a boiler suit fit?
With boiler suits, they are traditionally designed to be loose fitting, so don't worry if it's not super fitted like a jumpsuit or pair of dungarees. The loose fitting nature of a boiler suit, adds to the cool, casual element and is really comfortable!
How do I leave the house confidently?
The first time you wear your dungarees or boilersuit out of the house, you will feel self conscious. This is only natural because it's down the "upper end" of the scary scale on most people's comfort zones! It doesn't help when your husband or partner makes a rude comment (I will skip to the ending – men don't tend to like them!).
When you wear something new for the first time, you may feel like the whole World is watching and staring, but most people are too consumed in their own minds, worries, thoughts and insecurities, to be worried about what others are wearing. In short, no one cares.
If they do stare, and if they do say anything, it is probably because they think you look fab, or they wish they were brave to take such a style risk.
I felt really scared wearing mine for the first time, but now I love them and I feel like 12 year old Susie when I spring around in them. You should really try it!