Before we get going, I just want to (smugly) say that I was way ahead of the bumbag trend last summer! If you have followed me for a while, you will remember my beautiful sequinned bumbag that I wore all summer.
In fact, from that bumbag, came the term "Bumbag Moment". This describes a moment when you wear something COMPLETELY out of your comfort zone, even though you love it!
The bumbag received mixed reviews and comments, but overall I loved it. More than anything, it was hugely practical, both during personal shopping trips, and during the summer holidays with my son. Luckily my son is at an age where all I need is a little rucksack for a picnic, wallet and suncream, which meant I could use my bumbag for cash, car keys and my phone.
They are really practical little things, and if you can get past the whole tourist thing, you might enjoy wearing one.
The bumbag is one of the most Marmite items I have ever come across as a stylist. People either like them, or they literally HATE them. So if you are going to wear one, wear with pride and f*ck what anyone else thinks, am I right? 😉
The good news is, that you will be seeing more of them this summer, as they are HUGE news for Summer fashion 2018. So much so that the swanky bloggers are all writing about them, and even Gucci have jumped on the bandwagon. And when Gucci says something is cool, then the fashionistas follow.
So here is my pick of my favourite bumbags.
The "Not A Bumbag" Bumbag:
This little item is great if you're not ready to fully embrace that fanny pack. You can get away with this looking like a cool little handbag, without declaring your bumbagness for all to see. It's chic and slick which means it would be a great bag to wear on a nice daytrip to London or out in the evening for summer drinks.
ACCESSORIZE: Sorrento Multiway *ssssh* Bumbag – £22.00
The "I'm a Really Cool Fashionista" Bumbag
This is a little quilted bumbag that you could wear across your body too, if you don't fancy strapping it round your tum. It's a nod to Gucci, really chic and fantastic for city breaks (who am I kidding – WHO does a city break?!). I mean…perfect for posh soft play.
ACCESSORIZE: Otto Multiway Bumbag – £22.00
The "I'm Going To A Kids' Rave And I Want To Look Cool" Bumbag
This bumbag is loud and proud, and PERFECT for summer. Going away with the girls? Going to a festival? Going to CBeebies Land? Wherever you are hot footing it, this bumbag is fun, will look great with some funky sunnies and an e-number filled ice cream of your choice.
ACCESSORIZE: Mirror Tassel Bag – £25.00
The "I Need To Shave My Muff" Bumbag
I wouldn't advise anyone to go for this bumbag, unless you want to be endlessly mocked, be stared at, and IMAGINE  it after a downpour! Not for the fainthearted.
TOPSHOP: Frizzie Marabou Bumbag – £25.00
The "Pop Of Colour" Bumbag
Aaah back to normality. This is a beauty of a bumbag. A lovely flash of colour that will make the most boring of jeans outfits look hip and funky this summer. Perfect for all occasions and you can wear it across body too.
TOPSHOP: Queenie Quilted Bumbag – £22.00
The "Night Out" Bumbag
Don't want to dance around your handbag? Fed up of that clutch in your right hand? Well step forward, this bargain bumbag which will allow you to do the YMCA liberally, while keeping your belongings secure. Big enough for your credit card, cash, lipstick and mobile phone.
ASOS: Flat Monogram Bumbag – £10.00
The "Travelling Around Thailand" Bumbag
Going on a yoga retreat? Having a little "finding yourself" trip? If so, I can't be your friend as I'm too jealous, but step forward YOUR perfect bumbag. Casual, great with shorts, a nice boho print and a colour to match that hand luggage wardrobe. Go Eat, Pray Love, with your beauty of a bumbag.
ACCESSORIZE: Bondi Geo Bumbag – £25.00
The "Gucci" Bumbag
As I said above, when Gucci do it, the fashion world follows. This is a neat little bumbag, a colour that goes with everything, and a price that will make you wince.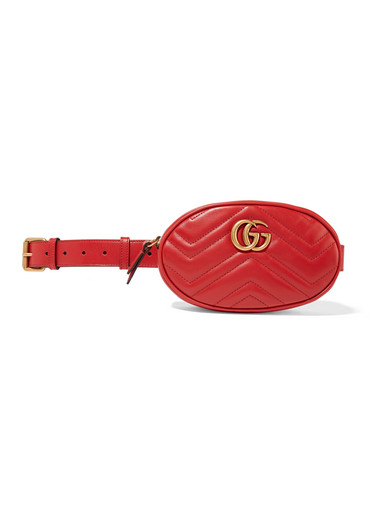 GUCCI – "GG Marmont Quilted Belt Bag" – £765.00
The "More Money Than Sense" Bumbag
If you have the cash to splash on fun fashions, then go for it! Or maybe you want to invest in a posh bumbag for when you travel with work and need your hands free for your wheelie suitcase and champagne.
PRADA : Cahier Textured Belt Bag – £1,180.00